Before start to review, I would like to share technical aspect and package details.
Package Contents:
– Atlantis earphone
– 2-pin Stock Cable,
– Cleaning Cloth,
– Cleaning Tool,
– Velcro Cable Wrap,
– Large Alloy Carrying Case
Specs:
Driver Type: Quad Balanced Armature
Configuration: 1 x Low, 2 x Mid, 1 x High
Crossover: 2-way
Frequency Response: 20Hz to 20kHz
Impedance: 30 ohms
Design & Isolation;
Atlantis has incredibly good material qualities and workmanship. Durability is noticeable on the first touch. You can choose your design and make it CIEM or Universal. I am using a universal earphone which has a mould like CIEMs and fits perfectly. I didn't feel any pain or discomfort even on long listening. To have the best fitting experience, I used Spiral Dot tips. I would like to remark that, both sound and isolation are quite good with the Spiral Dot tips.
Sound Type:
Atlantis has an incredible success on treble and mid. Sound characteristic is very close to the neutral.
One of the best earphones I have listened to in terms of realism and transparency. I can define the general sound character as flat and slightly on the warm side. Trebles and Mids are able to compete with the more expensive headphones in terms of resolution. Although Atlantis has a very good sound technicality, it keeps its musicality.

Trebles:
In one-word, trebles are spectacular. With the S-EM9, Atlantis is the best earphone for the trebles in the earphones that I've used. Resolution, speed and separation are immaculate. Nocturnal Audio has done a very good job here. The trebles in the overall presentation have a slightly shiny, but this certainly won't cause any distortion. There is no harshness or sharp edges on the presentation. The range of treble is pretty good and there is no roll-off. You feel what you hear until the end of every stroke in the song. Le Trio Joubran – Masar album is my reference album for every earphone I ever had. Whenever I receive an earphone, I listen to whole album. I have must admit that I really loved the tones. All I can say that I couldn't find anything in the trebles that I can call a minus.
At first, I tried headphones with the stock cable, but then I upgraded with the PW Audio No5 copper cable. The treble become more hearable and the shiny presentation was slightly softened.
Although I tried to listen with a very wide source of types of music in my hand, I never heard any sibilance. But I got the best fit with the Opus #1 balanced and AK120. It's a pleasure to listen to music with a slightly warmer DAP. Compatibility with the Opus # 1 was successful, but it is not as sleek as the AK120, but it works with a much flat presentation. I personally liked the little body, but many users will love to compete with Opus # 1 that's for sure.
In general, trebles were incredible. NocAudio stood on a very thin line and got a good spot with a fine adjustment.
Mids:
Mid is my second favorite area in the Atlantis. Presentation is neither too far behind nor face to face because the overall presentation is nearly flat. Upper mids are highly controlled. In these regions, Atlantis always holds the control. It has very good resolution and cleanliness. Mid's liveliness, texture and resolution are good. It is difficult to say that the notes are thick and fleshy. However, with the advantage of the spaciousness of the soundstage in the horizontal, I can say that it keeps the instrument separation very good. The upper mids are a little open, but they are not tiring or aggressive. Texture of the stringed instruments were pretty noticeable and even the last extensions of the frequency caused by stings were hearable. Oud, drums, vocals were all so beautiful, sounds nice. You can hear the smallest movement in the music. like the strangeness of oud's detuning. In detail, Atlantis is really well positioned.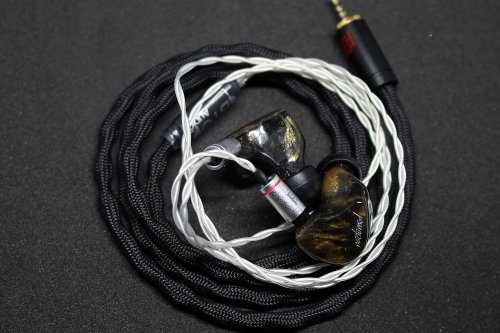 Bass:
While it was with the stock cable, the bass was a little behind, and in some parts, it seemed to be a bit more. But after upgrading with No: 5, I can say that it came to the amount and depth I wanted. They are tough, tight and strong. It's hit by the mid bass more. Sub-bass is not very flashy. It's a tight squeeze. Instead of hitting from a large area, it will hit the bottom, which will not dominate the overall presentation. But with the untouched cable change, I obtained grain shades instead of crystal clear sound. In this case I have tried to eliminate the cables and the best was the SPC as well as the stock cable and I am using BTG Starlight balanced cable which made me very satisfied.
It doesn't exaggerate or offer more. It can keep up with EDM-like music which has very high bpm.
Soundstage:
Although it has a wide soundstage, it does not have a very deep stage. I still didn't hear a better heading than the S-EM9 on the depth. I liked the position of the instruments very much. It gives each instrument the right angle, animates the stage setup on a clean slice, and no instrument crushes each other.
Verdict:
I have been looking for a reference-like earphone before buying Atlantis. UERR was one of them. After accidentally meeting with Nocturnal Audio, Atlantis grasped my attention and decided to order it later. Before giving the order, I had some question marks in my head because I had not heard anything about the brand, but after I laid my hands-on Atlantis and listened with it, all my suspicions flew away. It has a better performance than many earphones I've bought, even better than more expensive ones. Certainly, NocAudio is a company I would follow from now on.